Welcome to SBU Design Ltd, a management consultancy specialising in the organisation design of key business areas, such as Strategic Business Units (SBUs), as well as the groups they are part of.
We help clients develop and align organisational capabilities – like strategy, structure and people – so that they win when delivering products/services to customers and meeting performance requirements.
We excel at helping CEOs design organisational structures that give each leader clear Space-to-Lead i.e. a job that doesn't duplicate the decision space of others, especially its direct reports and its boss.
SBU also advises executives on solving horizontal organisational design issues like choosing the best way to departmentalise or clarifying the roles units are expected to play in key decisions.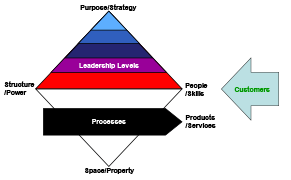 To read ground-breaking research into organisational factors such as employee layers, spans of control, and delayering cost-savings – click on 'Designing Clear Space-to-Lead' by Adam Pearce. This combines quantitative analysis of over half a million jobs at 32 bodies, with qualitative research into the accountabilities of 1,100 leaders via interviews with each leader by Adam or his colleagues.
Clients
SBU's clients tend to be group or divisional CEOs and Human Resource Directors, for example at Aviva, Lloyds Banking Group, Tesco, Danone, Direct Line Group, Experian, Asda and in Whitehall.
Prior to SBU, Adam Pearce's clients included Alliance Boots, Aegis Media, The Body Shop, Reed Elsevier, Alliance & Leicester, Absa, Chubb, National Trust, Office of Fair Trading, Deutsche Bank and the CEOs of regulators merged into OFCOM. He's delivered work successfully in the UK, USA, Canada, Brazil, France, Germany, Spain, India, Australia, South Africa, Kenya, Botswana and Russia.
Cases
For further insights into SBU's organisation design projects, click on these one-page case studies.
Collaborators
Since being set up in 2008, SBU has collaborated with various management consultancies to deliver specific projects including: Heidrick Consulting, DMA Consultancy Ltd and Stanton Marris.
Contact
SBU is led by Adam Pearce who has over 25 years' experience improving business performance in a wide range of sectors including finance, insurance, media/telecoms, retail, utilities and industry. After Cambridge University, Adam trained as a management consultant at PwC. He then worked in-house in marketing (WarnerMedia), strategy (BBC) and business launch (UKTV) before returning to consultancy to focus on organisation design and change (Willis Towers Watson). In 2003, he was hired by Barclays Bank to lead a global restructuring programme which was delivered successfully, helping to simplify structures for agility, customer focus, efficiency and employee engagement.

Adam Pearce
SBU Director